The Festival of Insignificance
by Milan Kundera
Standalone
128 Pages
Publisher: Harper
Purchase Links:
Amazon
|
IndieBound
|
Barnes & Noble
From the internationally acclaimed, bestselling author of The Unbearable Lightness of Being, an unexpected and enchanting novel—the culmination of his life's work.
Casting light on the most serious of problems and at the same time saying not one serious sentence; being fascinated by the reality of the contemporary world and at the same time completely avoiding realism—that's The Festival of Insignificance. Readers who know Milan Kundera's earlier books know that the wish to incorporate an element of the "unserious" in a novel is not at all unexpected of him. In Immortality, Goethe and Hemingway stroll through several chapters together talking and laughing. And in Slowness, Vera, the author's wife, says to her husband: "you've often told me you meant to write a book one day that would have not a single serious word in it…I warn you: watch out. Your enemies are lying in wait."
Now, far from watching out, Kundera is finally and fully realizing his old aesthetic dream in this novel that we could easily view as a summation of his whole work. A strange sort of summation. Strange sort of epilogue. Strange sort of laughter, inspired by our time, which is comical because it has lost all sense of humor. What more can we say? Nothing. Just read.
This book doesn't matter. The entire point of the book was that it was insignificant. It was just a book about people that would never change the world. They would never do things that made them remembered. No one outside of their friends and family care about them. And I loved every word.
There wasn't really much, well, any real characterization in this book, but it just kind of worked. I get mad when there is no character development in a story, like I feel as if i wasted my precious time reading a book when the characters suck. I don't know how he did it, but this book was great. It just kind of went with the theme of insignificance, and because the characters didnt matter, there was no point in developing them.
It was the same thing with the plot. It was very lacking, and it was just a few grown men going about the everyday lives. And that was it. It wasn't even a very interesting night or two. It was just going to a party, some lying and getting drunk. I was enthralled.
And the Stalin storyline just killed me. The author took this Satan-figure, and made him kind of, well, likable. They talked of some kinda important, but not really guy in Soviet Russia who was pawls with Stalin. And he didnt matter, but he had a city named after him, WHAT? Gah! This was just great.
While most authors could not pull off a story like this one, Milan Kundera sure as hell knows how to write a good book, and I really hope that I can read more by him in the future. I really want to know how is previous books compare to this one.
The Rating:
______________________________________________________________________________
About the Author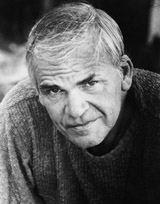 The Franco-Czech novelist Milan Kundera was born in Brno and has lived in France, his second homeland, since 1975. He is the author of the novels
The Joke
,
Farewell Waltz
,
Life Is Elsewhere
,
The Book of Laughter and Forgetting
,
The Unbearable Lightness of Being
, and
Immortality
, and the short-story collection
Laughable Loves
—all originally written in Czech. His most recent novels
Slowness
,
Identity
, and
Ignorance
, as well as his nonfiction works
The Art of the Novel
,
Testaments Betrayed
,
The Curtain
, and
Encounter
, were originally written in French.
XOXO,
Belle
______________________________________________________________________________
Tour Stops:
______________________________________________________________________________
I received this book in exchange for an honest review, and honestly it would be more difficult to make a dishonest review than a truthful one.